Although Sharjah does not stand for being as flashy and extravagant as its neighboring cities, it offers a different vibe. This city earns the designation of UAE's cultural capital by UNESCO for its exquisite Islamic architecture and historical monuments.
With endless options of activities, there are no bound in things to do in Sharjah. Thus, let's explore some of the best things or places you do not want to miss out on.
10 Best Things To Do In Sharjah In 2022
While there are multiple fun things to do in Dubai, Sharjah also has several things that can fill your bucket list. While this abundance of options may overwhelm you, we have curated the 10 best things to do in Sharjah.
Let's check out.
1. Blue Souk Shopping Is A Must
What can be more exciting than roaming and shopping around the most luxurious shopping center? Shopping in the beautifully designed Blue Souk is undoubtedly one of the fun things to do in Sharjah.
The souk has over 600 shops and 6 astonishing structures with blue tiling. It is known to be the Central Market where you can find endless exciting stuff.
Read More: Where To Watch New Years Eve Fireworks In Dubai
2. Visit The Al Noor Mosque
Sharjah has almost 600 mosques, but nothing can stand beside the exquisite and pristine beauty of the Al Noor Mosque. Situated beside the Khalid lagoon, this magnificent mosque is made following the Ottoman style. In addition, being the first mosque to open the door for non-Muslims makes it even unique.
3. Relax At Al Mamzar Beach
If you are finding some relaxing things to do in Sharjah, put your feet at the serene Al Mamzar Beach. The beautiful azure water and white sand of the beach are not it. This place also offers you multiple playgrounds for kids, a humongous space, palm trees, picnic areas, and many more.
4. Get Amazed At The Sharjah Aquarium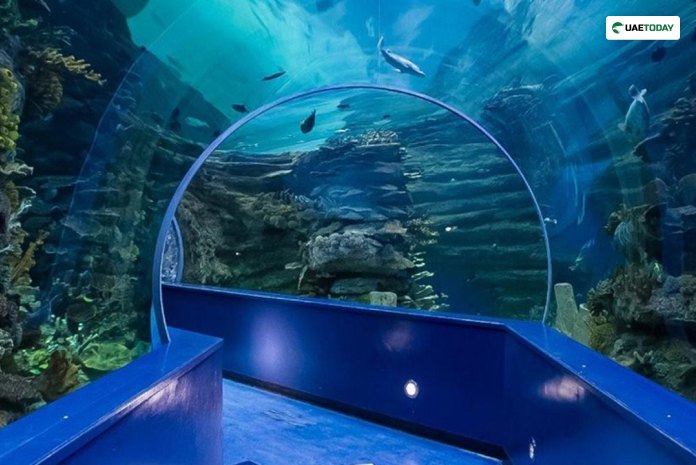 If you are already amazed by the exciting things to do in Abu Dhabi, let's not forget the Sharjah Aquarium. It is one of this city's loved and visited tourist spots, allowing you a peek through the spectacular marine life.
It acquires 2 floors and 20 different tanks, each having a recreation of a different enchanting aquatic world. Thus, you can experience over 250 types of species, including sharks, seahorses, clownfish, eels, and many others.
5. Explore The Arabian Wildlife Centre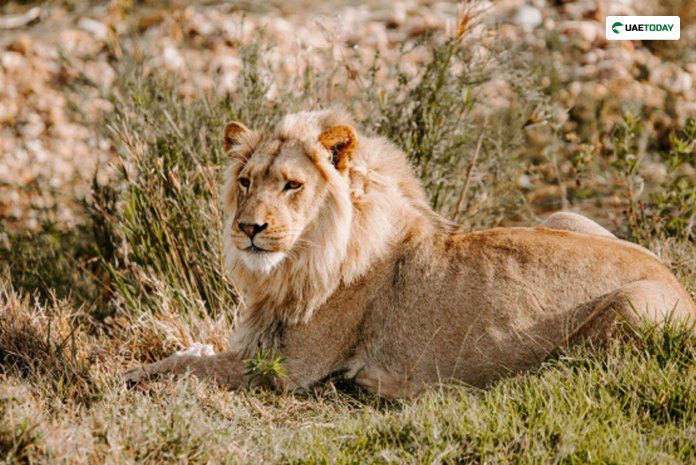 Give a treat to your wildlife enthusiast heart by visiting the Arabian Wildlife Centre. Exploring the wildlife here is one of the most exciting things to do in Sharjah. It is the home of the cheetahs, Oryx antelopes, flamingos, and endangered Arabian leopard.
6. Discover The Sharjah Desert Park
The Sharjah Desert Park encompasses 1 sq. km. with the natural desert habitat. It contains a natural history museum, botanical museum, Sharjah zoo and wildlife center, and children's farm.
The children's farm is an exciting place for the children as they can feed the wild animals of the desert. Along with that, discover the enchanting natural vegetation in the botanical museum and enjoy the history museum.
7. Live The Past At Mleiha Archaeological Centre
You cannot miss the At Mleiha Archaeological Centre to embark on the incredible journey through history. Therefore, visiting this place is one of the things to do in Sharjah today.
You can learn about the adventure in the desert dunes, Bedouin culture, and early civilization. Alongside, the spectacular beauty of archaeological sites like burial grounds, old forts, and settlements can be enough to amaze you.
8. Visit The Sharjah Heritage Area
If you want to encounter the original Bedouin township, visit the mesmerizing Sharjah Heritage Area. It allows you to intrusively investigate the area and discover the culture behind it. This zone is perfectly restored along with the amazing architecture and has a wind tower named Al Midfa house.
You May Like To Read This: Outdoor Things To Do In Dubai
9. Roam Around The City Of Al Qasba
One of the free things to do in Sharjah is to soak yourself in the beauty of Al Qasba. The pristine beauty of this city, especially in the evening, makes it the center of attraction. Moreover, this city offers you a magical canal where you can sit beside and enjoy the tranquility.
The city also encompasses multiple attractions like Maraya Art Center, that Italian craftsman Giuseppe Mpscatello curated. Another attraction is the 60 m tall ferries wheel called the "Eye of the Emirates."
10. Top It Off With Khalid Lagoon
The unsullied Khalid Lagoon is another best place to top your Sharjah trip off. This lagoon is located right beside the Blue Souk. In addition, it is a tidal water body, making it one of the most beautiful tourist spots in Sharjah. You can simply spend a long time sitting beside this lagoon and enjoying the scenic beauty around it.
Frequently Asked Questions (FAQs):
Q1. What Are The Things To Do In Sharjah For Free?
You can spend a day even without spending a little money. Sharjah has a lot of places like the Blue souk, Al Qasba city, canal, and the serene beaches to visit for free.
Q2. What Are The Best Adventurous Activities To Do In Sharjah?
Sharjah offers adventure freaks with several activities like sand skiing, quad and mountain biking, and kayaking. Other than that, you can also choose several water sports to satisfy your adventurous soul.
Q3. What Are The Things To Keep In Mind To Visiting Sharjah?
While visiting Sharjah for a tour, you must keep a few things in mind. First of all, you must be dressed modestly in such a restrictive Islamic city. Secondly, you cannot drink in Sharjah as it is legally prohibited in the city.
Q4. How Many Museums Are There For The Art And Archeology Enthusiast In Sharjah?
There are 5 exquisite museums in Sharjah to check out the local history, heritage, and architecture. Some of these are the Sharjah natural history museum and desert park, the Sharjah Museum of Islamic civilization, etc.
Conclusion!
Sharjah is one of the most beautiful cities in UAE without having any extravagance like its neighboring cities. What makes this city precious is the divine architecture and historical and cultural places. Or we can say it is one of the best lands to indulge in the Islamic culture.
So, these are the most exciting things to do in Sharjah if you visit in 2022. Do not hesitate to spread these words with others if you like them and keep coming back for more.
Read Also: