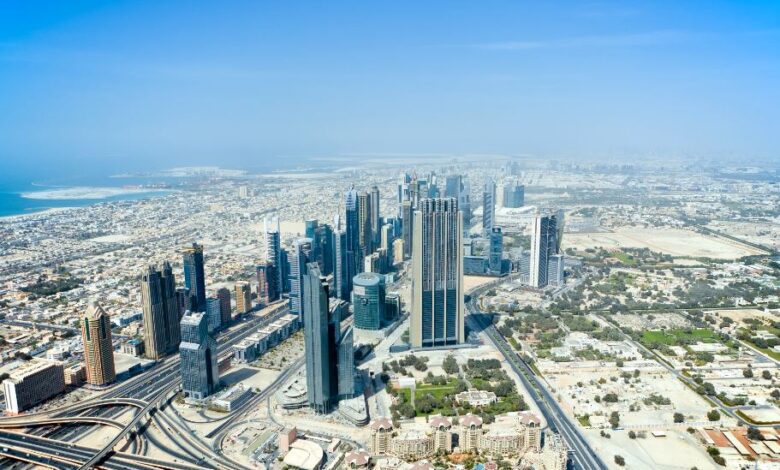 In the Middle East, Dubai is without doubt the entertainment capital. Located in the UAE, this fascinating emirate is packed with some of the world's greatest attractions. Dubai, however, being a desert city, is thought to be less suitable for outdoor activities because it has a stifling climate.
Things To Do In Dubai
A sprawling desert landscape surrounds Dubai, but the emirate is also bordered by the Persian Gulf to its west and the Hajar Mountains to its east. The dramatic landscape in Dubai makes winter months extremely enjoyable for outdoor activities. Dubai offers some of the best outdoor experiences in the Middle East, whether you are seeking adrenaline-pumping adventures or tranquility in picturesque settings. Here are some great experiences to include in your Dubai vacation and have a wonderful outdoor experience in the city.
1. Experience The Thrill Of Skydiving In Dubai
Daredevils will enjoy this one. Skydiving in Dubai is the perfect adrenaline rush for those who love the thrill of extreme sports. Dubai's Palm Jumeirah is known as one of the best scenic drop zones in the world. To view the palm-shaped artificial island spread on the blue-hued Persian waters from a bird's eye point of view is a sight to behold. Just moments after you leap out of the plane, the nervousness and jitters turn into an exhilarating adrenaline rush. You realize that you are not falling, but soaring in the air and the feeling is nothing like you have ever experienced before. Together with the spectacular scenery of the Palm Jumeirah and the adrenaline thrill, it is an adventure you are unlikely to forget in a lifetime.
2. Venture Out For Hatta Mountain Trekking
Contrary to popular belief, Dubai is not only surrounded by desert, but also by the rugged Hajar mountains on its eastern border. It is a fantastic excursion from Dubai to get away from the glitzy, modern vibes of city life by visiting the Hatta Mountains, which are part of the Hajar Mountains. Taking a hike through the rugged terrain and uneven trails makes for an interesting experience. These trails offer climbs of varying difficulty levels.
As you trek to higher altitudes, you would love the challenge of climbing unknown terrain with stunning views. Each trail route has a different color coding based on its difficulty level. The easiest and shortest trail routes are suitable for beginners or those seeking a nature adventure without the strenuous climbs. In addition to hiking, Hatta Mountains offers a wide range of other marvelous outdoor experiences, including paragliding, horseback riding, and kayaking. A road trip to Hatta Mountains from Dubai itself is one of the most scenic road journeys to take in the UAE.
3. Gear up for desert fun and adventure in Dubai
Dubai's desert landscapes are more than just vast expanses of sand dunes. The Arabian desert is the perfect playground for some outstanding desert sports. With Dubai desert safari tours, you can experience adrenaline-rushing adventure sports while exploring the deserts. Dune bashing would be an exciting and fun experience on a trip to Dubai, as it is like riding a rollercoaster across undulating sand dunes.
For a solo experience, try quad biking, where you can handle swerving through the dunes completely on your own. Not a big fan of adventure sports? Dubai desert has more options in store for you to discover the beauty of the Arabian desert. Choose Morning Hot Air Balloon tours to experience a magic carpet ride over the sun-drenched golden Arabian dunes. Dubai desert sunsets are equally enticing to experience in the evenings.
You can also experience a night under the stars in Dubai with a traditional folklore show and an Arabian barbecue dinner. You can upgrade your overnight stay to a luxurious one by choosing desert glamping experiences that offer more comforts and extra amenities. When booking desert safari excursions, it is best to arrange trips in the early morning or book during the cooler months so that you can enjoy these adventures without getting too hot or sweating under the scorching desert sun.
4. Enjoy Watersports In Jumeirah
A lot of water sports are unique to Dubai, some of which you won't find in other beach destinations. The Jumeirah stretch has the most varieties of water adventures all in one place. Adventure lovers can try out unique water sports that offer different thrills besides kayaking, paragliding, wakeboarding, and jet skiing. Flyboarding is one of the fastest-growing trends among adventurers where, for a few seconds, you feel like you have superpowers to fly above the water.
Powered by water jets, a jet pack allows you to balance and hover few feet above the water. The Sea Breacher is yet another spectacular water ride that lets you see views both under and above the surface of the water. This specially designed watercraft can zoom through the water, submerge in water for few moments and break back to the surface offering a submarine-like experience in the water. Families too can have a fun day together with rides such as fly-fishing, banana boat, and donut rides.
5. Slip, Slide, And Splash At Aquaventure Waterpark

Ranked as the best water park in the Middle East, Aquaventure water park welcomes you to a world filled with splashing fun and water thrill. Located at the Atlantis the Palm Dubai in Palm Jumeirah, this colossal water park offers around 40 water rides, a lazy river, and splash areas for kids. For extreme adventure seekers, Aquaventure water parks present near-vertical, high-speed tube water rides that plunge you unexpectedly from epic heights or whoosh you into shark-filled lagoons.
This water adventure park also has a state-of-the-art surf wave simulator where you can try your chance to ride the waves. Apart from high-adrenaline spiking adventures that are not for the faint-hearted ones, the water park also offers multi-user float rides that families can enjoy together. There are mild-speed rides, dedicated splash pools, and water play areas for kids to enjoy splashing around with their families. This outdoor water park is a great way to chill out, spend some time together with family and friends as it offers something for every age group to enjoy.
6. Revel In Floral Splendor At Dubai Miracle Gardens

Dubai's outdoor attractions are not limited to adventure experiences. The city offers a fantastic collection of alfresco recreational experiences, one of which is the gorgeous Dubai Miracle Garden. A seasonal attraction that stays open only from October till April, Dubai Miracle Garden is an extraordinary visual treat and a respite for the eye from all the contemporary views of Dubai's skyscraper-laden city vistas. The eye-popping vibrant hues of floral blooms are soothing to view amid the urban jungle city.
At this picturesque garden, you can spend capturing the enigmatic sights of millions of blooms in your camera. The giant dioramas of Disney characters, floral clocks, and houses adorned with multi-hued flowers make it a perfect photo-op spot.  This visual recreational attraction needs to be seen to believe it and you might pinch yourself to make sure that you are not viewing a mirage in the Dubai desert city.
7. Discover A Serene Oasis At Al Qudra Lake

Dubai makes up for its lack of green spaces with innovative artificial oases. Located far away from the bustling city vibes, tucked in the Al Marmoom Desert Conservation Reserve, Al Qudra is a long meandering lake through the desert expanse adorned with desert plantations, palm, and date trees, and the stunning Love Lake – two heart-shaped man-made lakes interlinked together.
Al Qudra Lake is a pleasant attraction to take a break from city life and immerse in the charms of nature. The artificial lakes are a great allure for migratory birds and bird lovers can spend time spotting flamingoes,  Whooper swans, Egyptian goose to name a few. Al Qudra Lake also has an 86 km long cycling track along the lake in the desert setting where you to enjoy tranquil sceneries of the desert oasis while experiencing the thrill of speed cycling.
Conclusion
The perception of Dubai is that it is a desert city that is only suitable for indoor experiences. The thought that you can only visit enclosed attractions in Dubai is common because it is abundant in shopping malls, indoor dining venues, and air-conditioned attractions. Despite the oppressive heat of sun-drenched Dubai, the emirate has a number of outdoor activities that will offer excitement as well as a cooling solution to beat the heat. Attractions in Dubai are often incorporated with water elements as a way to offer relief from the arid climate.
Hatta Mountains' soaring topography makes it one of the coldest places to visit in the UAE. Moreover, mid-September to April is suitable for outdoor activities as the days are cooler compared to the other months of the year making it the best time to enjoy the outdoors in Dubai. These listed attractions showcase that Dubai is very much an outdoorsy destination and offers extraordinary experiences that ensure you do not encounter a single dull moment while you are on a Dubai vacation.
Read Also: